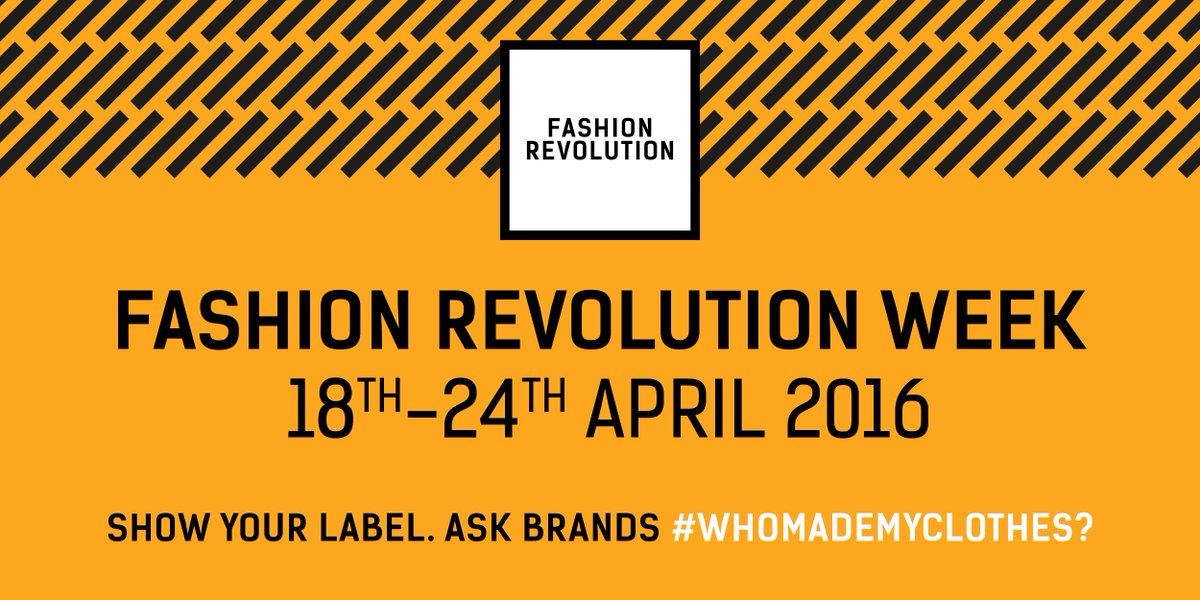 On 24 April 2013, 1,134 people were killed and over 2,500 were injured when the Rana Plaza complex collapsed in Dhaka, Bangladesh. This building collapsed despite many workers point out cracks in walls to their managers weeks before. Fashion Revolution was born to raise awareness of disasters like Rana Plaza and to catalyze action to transform the fashion industry into a more ethical, fair and sustainable one. They believe that fashion can be made in a safe, clean and beautiful way, where creativity, quality, environment and people are valued equally.
On 18-24 April, Fashion Revolution Week will bring people from all over the world together to use the power of fashion to change the story for the people who make the world's clothes and accessories.
Last year, in over 70 countries around the world, tens of thousands of people took part in Fashion Revolution Day. This year, they want to go even bigger with a Fashion Revolution Week. Fashion Revolution want to unite people in the fashion value chain and raise awareness of the true cost of fashion. They want to show the world that it is possible to create beautiful pieces without exploiting people or the environment. They want to celebrate all the people working towards a more sustainable future. They want to make an impact, get the message out their, and catalyze change in the fashion industry. So join Fashion Revolution and ask brands to show us who made our clothes!
Find out more: http://fashionrevolution.org/
What's happening in London?
April 17th, Somerset House, 3PM
Orsola de Castro, Co-Founder of Fashion Revolution, invites us to reconsider our relationship with clothes, exploring how we return to a society of consumers not just users, and how we enter the planet of the clothes keepers. Supported with live illustrations by Zoe Taylor one of the 'Pick Me Up' Selects. Part of the Somerset House #Utopia2016 exhibition
Fashion Revolution Pop Up Sale
April 18th-26th, King's Cross
An independent design collective with a conscious core bringing you the best of British made ethical and sustainable fashion. To commemorate the Rana Plaza factory disaster in Bangladesh, 2013, they're offering one a week pop up shop. Plus find out more about the sustainable materials they use from recycled plastic bottles to organic peace silks, natural dyes to environmentally friendly peace silks.
Fashion Question Time at the Houses of Parliament
April 18th, Houses of Parliament, 1PM
On 18 April 2016, Fashion Revolution will hold Fashion Question Time at the Houses of Parliament. Hosted and chaired by Mary Creagh MP. The panel will bring together leading figures across government and the textile industry to discuss the steps needed to create revolutionary change in the fashion industry. Panellists include Livia Firth, Eco Age Creative Director, Dr. Roberto Ridolfi, Director of the European Commission for Sustainable Growth and Development at the Directorate-General for International Cooperation and Development (DG DEVCO) and Jenny Holdcroft, Policy Director at IndustriALL Global Union.
The event will mark the start of Fashion Revolution Week 2016. It is by invitation only, but we should be able to listen to the podcast soon after!
Fashion Revolution Week Yoga Fundraiser
April 18th, Highbury Hill, 7PM, suggested minimum donation £15
Join for an empowering practice themed around our ability to impact the world around us. Over the evening, we will chant mantra, practice asana and come to understand what we can do as yogis to wear our values. We will be taking photos of us in our yoga clothes and sharing them online with the companies who made them, asking a simple question – Who Made My Clothes?
The money raised from the evening will be donated to the charity TRAID (Textile Recycling for Aid and International Development). Many of the children of garment workers in Bangladesh do not have birth certificates which means they are not recognised as Bangladeshi citizens and have no access to schools or health care and there is no proof of how young they are when they work in the factories. Our donations will directly go to the birth registration of these children.
April 19th, Goldsmith's Centre, 9.30AM-5PM, £40
Fair Luxury is the UK's first responsible jewellery conference organised by Flux, an independent group of change makers in the jewellery industry. It brings together pioneering figures from both the jewellery and fashion worlds. Hear from industry leaders as they question the ways we approach provenance and sustainability examining the journey between original source and end consumer.
Late Night Charity Shopping & Fundraiser with TRAID
April 21st, Dalston, 6.30PM-9PM
Join for after-hours charity shopping at TRAID Dalston and help us wear sweatshop fashion out. Shop rails of designer, vintage and second-hand clothes, shoes and more for women, men and kids. Join our Mending Activist Workshop and find out how repair can change the world. Free hand-made mending kit for participants.
Email sarah@traid.org.uk to book your place.
April 22nd-23rd, Building BloQs, 10AM-5PM
Fashion Revolution is inviting London's most innovative fashion students to The Upcycle Project, a 2 day upcycling workshop, to create a showcase of the best in sustainable design. Using textile 'waste', you will learn from London's leading practitioners, experimenting with new techniques and materials. The garments will be professionally photographed with models, exhibited and auctioned to raise money for the Fashion Revolution movement. The Tutors include Orsola de Castro, Alex Noble, JJ Hudson, Katie Jones, and Brandy Nicole Easter.
RSVP: alis@buildingbloqs.com
The True Cost – Screening & Discussion
April 23rd, Clapham Junction, 7.15PM
St Peter's Church in Battersea will be hosting a screening of The True Cost Movie, followed by a short time for discussing some of the issues raised and our response to them. There will also be a photo space for doing selfies to post on social media, to ask brands #whomademyclothes?
Find other events in London here
Find events in your country here.