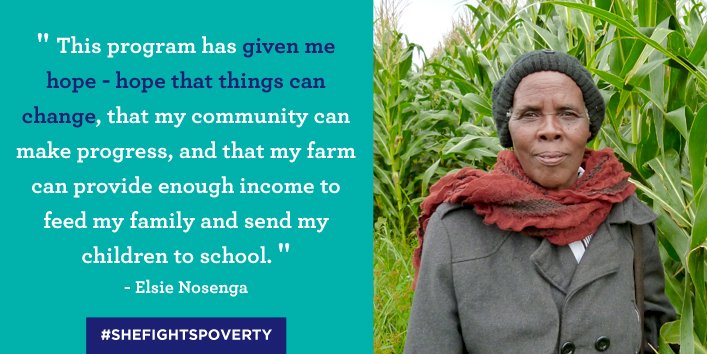 International Women's Day (IWD) is held annually on March 8, and around the world it is a cause for celebration for women's social, economic and political achievements. In some countries (including China, Russia, and Vietnam) it's a national holiday! This year, Kellogg Company and TechnoServe announced the the expansion of a training program to enhance the skills of smallholder farmers, particularly women, in climate-smart agriculture.
This program will help Kellogg achieve its Global 2020 Sustainability Goals, which include supporting 500,000 farmers (of whom 15,000 are smallholder farmers) through partnerships, research and training on climate-smart agriculture. Launched in January 2015, the program has already trained nearly 3,500 smallholder farmers, of which almost 40% are women. The new phase will reach roughly 12,000 additional farmers in India, and 400 additional maize farmers in South Africa, with similar percentages of women.
Smallholder farming- small farms that rely mainly on family labor. According to the United Nations Food and Agriculture Organization (FAO), 4/5ths of the developing world's food is a product of small farms.
On a global level, climate-smart agriculture has emerged as a critical tool in safeguarding both food security and livelihoods of the world's 2.5 billion smallholder farmers. Women, who constitute 43% of the agricultural labor force in developing countries, are particularly vulnerable to climate-induced economic shocks. Therefore, Kellogg hope that providing this valuable training they will be able to help enhance the resilience of agriculture in these areas, as well as the stability of jobs for both men and women.
Find out more about climate-smart agriculture here.
Photo Credit: UNMIL/Christophe Herwig
"Kellogg recognizes that women play a significant role in agriculture, but in some countries still face challenges of injustice and inequality. With partners such as TechnoServe, we are identifying the parts of our supply chain with the highest prevalence of women and in partnership developing programs to help improve their livelihoods, families and communities."
-Diane Holdorf, Kellogg Company Chief Sustainability Officer